Where Tech Meets HR Know-How
We've walked in your shoes – HR managers, business owners, senior management, and team leaders. We get it. That's why we've created a platform tailored exclusively to meet your needs.
Effortless HR Automation
HR Duo's smart platform automates up to 80% of day-to-day HR tasks, including time tracking, document management, and compliance, freeing you from administrative burdens.

Time and Cost Saving
Save valuable time and resources, significantly reducing HR-related costs. Automate tasks and ensure compliance with our combination of tech and HR know-how.
Expert HR Guidance
Tap into invaluable HR expertise with a platform crafted by HR experts. Our HR services provide expert support to help you make informed decisions and effortlessly navigate HR challenges.
Focus on Growth
By streamlining your HR processes, ensuring compliance, and accessing invaluable HR know-how, you're free to focus on strategic initiatives and employee relations; confidently leading your business to success.
Stay Compliant and Informed
You can rest easy knowing your HR practices align with industry standards as we keep you updated on legal requirements and regulations, minimising compliance risks.
Comprehensive HR Solutions
Our user-friendly platform simplifies your HR processes whilst providing a comprehensive suite of HR solutions, from HR policies to contract templates, all in one place.
Take a quick look at HR Duo
We know your time is short, so before you book in a personalised demo with our expert team, take a sneak peek here.
Plans for Every Business
We offer game-changing plans tailored to your specific requirements. You'll only pay for the features you need, ensuring you get the most value out of our platform.
Core
Our HR Duo Core plan provides all the essential tools you need to manage your workforce efficiently.
Employee Profiles

Time Off & Leave Management

Smart Contracts (E-Signatures)

Employee Assistance Programme

Reporting & Analysis

Document Storage

HR Policies

Skills Register

HR Compliant Documents

Mobile App

Instant Messaging

Benefit Recording

Employee Onboarding

Organisation Charts

Permission Groups

Equipment Management

Knowledge Centre

HR Tasks

Integrations & Open API

Platform Support

Show More

Show Less
Pro
Elevate your HR capabilities when you upgrade to HR Duo Pro, with additional HR functionalities.
All HR Duo Core Features

Applicant Tracking System

Performance Management

360 Reviews

1 on 1s

Performance Improvement Plans

HR Letters

Show More

Show Less
Add-ons
Achieve up to 80% HR automation with our individual expert add-ons.
From Time and Attendance Management to our unique HR Consultancy Service, our versatile and custom individual add-ons are designed to elevate your HR efficiency and cater to the unique needs of your business.
Time & Attendance Management
Rota Planning
Employee Relations On-Demand
HR Consultancy Service
Remote Work Management
Sub-Contractor Management
Bespoke HR Policy Writing & Maintenance
All-in-one HRMS
HR Duo is designed to complement your role as an HR Manager or Business Owner. Think of us as an extension of your team, here to handle the time-consuming administrative tasks and provide expert support, so you can focus on the strategic aspects of the business.
With our team of experienced HR experts always within reach, it's no wonder our customers choose to stay.
1
Automate up to 80% of daily HR tasks
2
Access valuable HR know-how & expertise
4
Simplify HR processes with user-friendly features
5
Save time and resources with an all-in-one HR tool
6
Get HR assistance to focus on business growth
7
Designed for SMEs, offering full flexibility
8
Ability to scale up with add-ons and additional features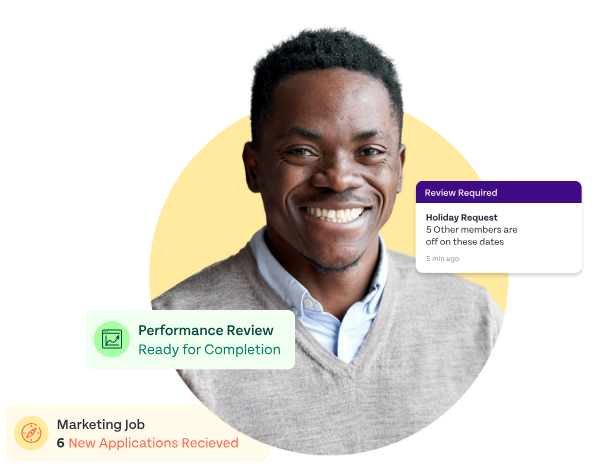 HR, Finally Made Easy.
Our intelligent HR Management System has everything you need to get your HR ducks in a row. You'll be looking after everyone more effectively, more efficiently and with a standard of compliance that's second to none. And you'll have a tonne of extra time on your hands with new, slimmed-down processes that manage everything you need to cover all employees.

Employment profiles, smart documentation, performance tracking and application management; no matter what it is, we've got you covered.
Frequently Asked Questions
Here's a round-up of some of the questions we've been asked by HR Managers, business owners, CEOs/Founders, and Non-HR professionals looking at making the move to an HR Management tool like ours.
What is HR Duo, and why do I need it for my business?
HR Duo is a comprehensive HR Management Solution designed to simplify HR tasks and ensure compliance for businesses. It automates up to 80% of your day-to-day HR operations, freeing you to focus on growing your business and HR initiatives while staying HR-compliant.
Built for Business Owners and HR Managers, you can find out more about our tools and features, as well as what makes us the unbeatable choice here.
Will HR Duo replace the role of an HR Manager or make it less significant?
Absolutely not! HR Duo is designed to complement your role as an HR Manager. Think of us as an extension of your team, here to handle the time-consuming administrative tasks and provide expert support, so you can focus on the strategic aspects of HR, staff well-being, and growing your business.

We're your ally in streamlining processes and ensuring compliance while enhancing your effectiveness as an HR leader. Your role remains pivotal, and HR Duo empowers you to make an even greater impact.
How can HR Duo help my business streamline HR processes?
HR Duo offers a user-friendly platform that streamlines HR systems and processes. It includes features such as smart document solutions, designed contract templates with e-sign capabilities, and efficient workflows. These tools make managing HR operations straightforward, even for non-HR managers.
Is HR Duo suitable for small businesses and startups?
Absolutely! HR Duo is tailored for small businesses and startups. Our platform is designed to handle HR tasks efficiently, making it ideal for businesses with limited resources or no dedicated HR manager.
What kind of support does HR Duo offer for HR-related inquiries?
HR Duo provides access to expert HR guidance and support. Our Employee Relations service offers businesses expert guidance and support for handling complex employee relations issues, enhancing employee satisfaction and mitigating potential risks.
Our HR consultancy service also ensures you have access to HR know-how with a team ready to provide expert guidance, support, and strategic HR solutions, covering recruitment, performance, investigations, and training. We ensure efficient issue resolution, risk reduction, and comprehensive training for a positive workplace.
Can HR Duo actually save my business time and money?
Yes! By automating HR tasks and streamlining HR processes, HR Duo can save your business valuable time and resources. You'll reduce HR-related costs and free up time to focus on strategic growth initiatives.
How can HR Duo help with employee onboarding?
HR Duo emphasises the importance of a streamlined onboarding process to ensure new employees integrate seamlessly into your organisation. Our platform offers tools and features to facilitate this crucial aspect of HR management.
Is my data secure with HR Duo?
Yes, HR Duo takes data security seriously. We provide secure document storage and access to compliant templates. Your sensitive HR information is protected to maintain confidentiality and compliance.
What features are included in HR Duo's Core Plan?
HR Duo's Core Plan includes features like employee profiles, benefit recording, and time off & leave management. These tools simplify HR tasks, leaving you more time to work on strategic HR initiatives. We want to ensure that your employees are well-managed and your HR processes are efficient.

Feel free to explore all our plans and individual add-ons.
How do I get started with HR Duo?
Getting started is easy. Simply request a free demo here. Don't forget to explore our features and choose the plan that suits your business needs.
Don't worry though, our team is here to assist you in making the most of your HR management experience. If you have more specific questions or need additional information, please don't hesitate to contact us.