Free HR Guide
Induction Checklist
Whether you're a seasoned manager ushering in new talent, or someone who has only recently taken on the responsibility for inducting new employees to your company - this checklist is your trusty companion to ensuring a seamless onboarding experience.
From the first day to the first six months, this practical checklist covers the key steps that will support you in enabling your new joiners to have a positive and effective induction.
Tap in to our industry know-how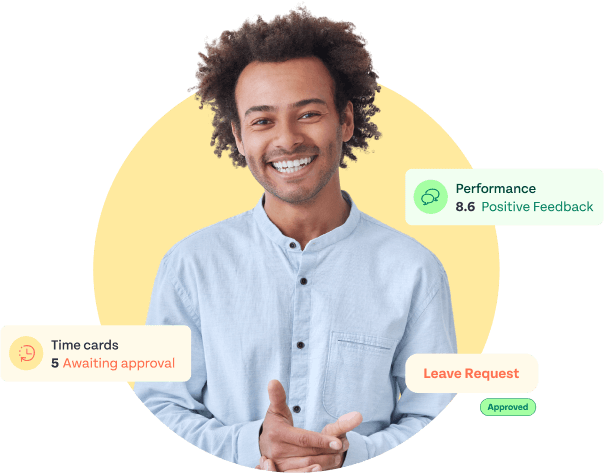 Look. We Get It.
We built HR Duo with small to medium-sized businesses at the top of our minds, whether or not they have a dedicated HR department. Our plug-and-play HR technology is built by some of the finest HR minds around, which you can also tap into through our unique know-how services.

We can help turn anyone into an HR ninja, no matter your background or experience.

Why We're the Unbeatable Choice
Here are a few standout reasons why HR Duo reigns supreme over competitors and alternative HR management systems.
Streamline Your HR Processes
From attracting new talent to managing the entire employee lifecycle; our platform simplifies and accelerates your HR processes like never before.
Unmatched HR Expertise
Access the collective knowledge base of some of the leading HR minds in the industry, and benefit from expertise, guidance, and best practices.
Tailored for Your Business
Specifically designed for small to medium businesses with 50-500 employees, our platform offers the scalability and flexibility you need to adapt and grow.
Simplify Administrative Tasks
Effortlessly handle leave management, track employee records, and perform essential HR administrative duties - all in one place.
Compliance & Risk Management
Our system ensures you remain up to date with the latest legal requirements, minimising the risks associated with non-compliance.
Supercharge Your Talent Acquisition
Find and keep top talent by streamlining your hiring process, from creating engaging job postings to managing interviews and onboarding new staff.
What Our Customers Say About Us
We built HR Duo with a variety of customers in mind; from HR Managers to CEOs of startups. Here's what they have to say about us;
Dr Fiona Edwards Murphy
CEO, Apis Protect
HR Duo isn't just a platform, it's a part of our team, delivering a service that is second to none.
The platform's offering was ideal for our business, giving us access to all of the software and advice we needed, really becoming an extension of our team. I wouldn't hesitate to recommend them to any other business.
Paul Farren
Managing Director, TSG
No one offers a full range of HR services like HR Duo does.
With a broad range of requirements to improve our operations, we looked at a lot of options for our HR needs. With a high level of HR expertise within arms reach, we knew we found our perfect match with HR Duo.
Daire Scanlon
Managing Director, Limitless Health
We've been given a service that has made a real difference to our business from day one.
Tasks that used to take several hours, like creating rotas and organising payroll, now just take a few minutes. Having an all-in-one platform with added HR support is a service that pays for itself in time saved alone.
Noel Burke
CEO, Brampton Care Home
HR Duo provides essential reassurance by keeping our policies and procedures fully up-to-date.
As a highly regulated employer, compliance is important, and we rely on HR Duo to instil confidence in all our HR documents and employment contracts.
Tony Cassidy
CEO, Vertice
If you're looking for a one-stop-shop for all your HR needs, look no further than HR Duo.
Knowledgeable people who understand HR - with actionable solutions to HR problems, what more do you need? With great software that works for our business, HR Duo has helped to improve all our HR aspects.
That's enough talk, take a look for yourself.
We know your time is short, so before you book a personalised demo with our expert team, take a sneak peek here.