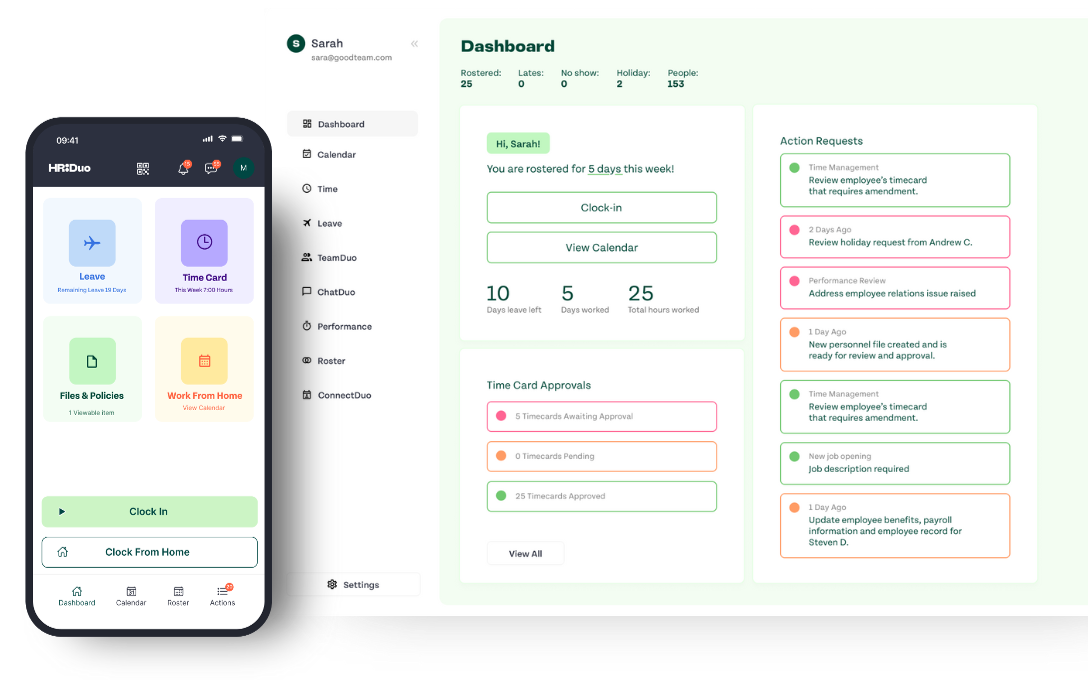 It's all a matter of Time
We'll elevate your ability to manage staff time, identify absenteeism patterns, and structure rotas with time-off scheduling.
Manage a Diverse Workforce
HR Duo is designed to handle the complexities of a diverse workforce across multiple locations. Enjoy the flexibility and powerful tools you need to streamline time tracking for your entire organisation.
Digital Rota Platform with Shift Management Functionality
Efficiently create and manage staff schedules with our digital rota platform. Assign shifts, track employee availability, and optimise workforce scheduling to meet your business needs.
Clock-in & Clock-out with Ease
Accurately record work hours using various methods, including physical devices onsite. Whether it's through our mobile app, swipe cards, RFID cards, fingerprint recognition, or facial recognition with biometric technology, tracking time has never been easier.
Comprehensive Reporting & Analysis
Access insightful reports and analytics to gain a deeper understanding of staff hours, attendance patterns, and leave management. Make data-driven decisions and optimise workforce productivity.
Preliminary Payroll
All timesheet data is collected in our time and attendance system and can be seamlessly integrated with your payroll, making it easy to calculate variable pay elements like overtime and shift work.
Facial Recognition & Biometric Access
Experience the utmost security and accuracy with optional facial and biometric access. Verify the presence of employees at work and the duration of their stay, providing an extra layer of confidence in your time and attendance management.
Time management,
made easy.
Create schedules, assign shifts, and optimise workforce coordination, all from one easy-to-use platform.
In only a couple of seconds you can confirm the time worked of your employees - ensuring accurate records and precise payment for hours worked, meaning this feature not only saves time, but also contributes to payroll accuracy.
1
Streamlined Time Tracking
2
Digital Rota and Shift Management
3
Efficient Workforce Management
4
Real-Time Clock-In and Clock-Out
5
Comprehensive Data Collection
6
Diverse Workforce Support
7
Biometric or Facial Recognition Access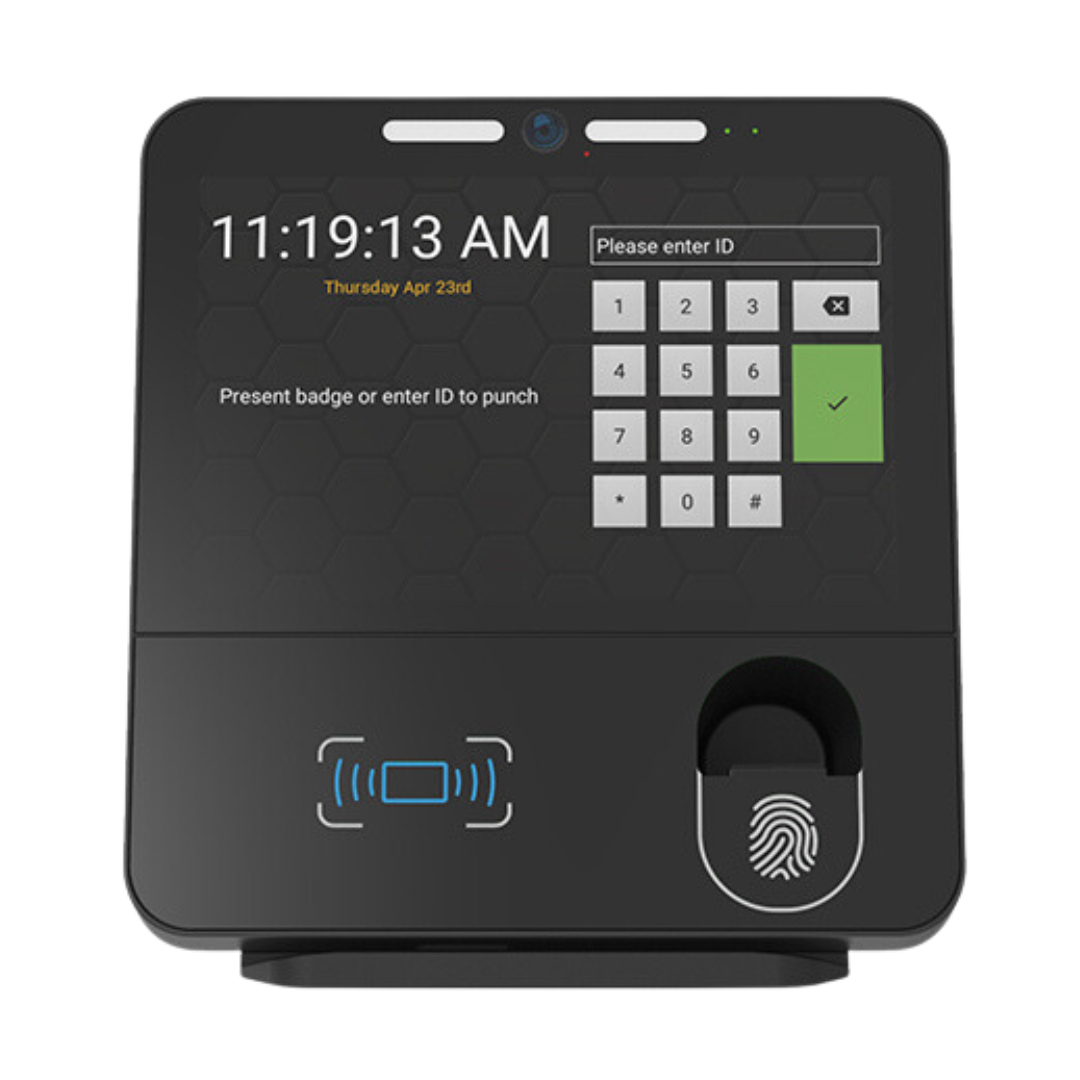 The Powerhouse Of Human Capital Management
Designed to control costs and enhance workforce productivity, our time clock will revolutionise internal working processes. Developed to deliver seamless and simple data security and safeguarding that provides assurance to managers and employees.
Touchless facial recognition capabilities

Customisable branding

High-resolution 8″ inch colour capacitive touch display

Encrypted data storage
We always have time for you.
As the unbeatable choice for your employee time management, we've cracked the code on boosting efficiency across your business.
Contact us today and we'll take you through our platform, with all the features you need to streamline your rotas, time and attendance.
An all-in-one solution with user-friendly features that simplifies your time management processes.
Designed and developed

to comply with industry regulations while reducing traditional burdens and costs.
See Our Time Management In Action
Frequently Asked Questions
Here's a round-up of some of the questions we've been asked by HR Managers and People Professionals looking at making the move to an all-in-one HR Management tool like ours.
What is HR Duo Time, and how can it benefit my business?
HR Duo Time is a comprehensive time and attendance management solution designed to streamline time tracking and attendance for your workforce. It helps you simplify time recording, manage a diverse workforce, automate time cards, enhance security with biometric access, and much more. By using HR Duo Time, you can efficiently manage employee time, control labour costs, and ensure compliance with regulations.
How does the digital rota feature work?
Our digital rota simplifies the scheduling process. You can create schedules, assign shifts, and optimise workforce coordination while adhering to predefined rules based on labour laws and your business strategy.
Employees can also request leave through the platform, streamlining leave management and ensuring efficient workforce scheduling.
How does HR Duo Time enable employees to clock in and out?
HR Duo Time offers various clocking methods, including our dedicated mobile app, swipe cards, RFID cards, fingerprint recognition, and facial recognition with biometric technology. This flexibility ensures accurate time tracking and convenience for employees.
How do the rota features integrate with time and attendance tracking?
The rota features seamlessly integrate with time and attendance tracking, allowing you to monitor and manage employee attendance and work hours in one unified system. This integration simplifies HR admin tasks.
You can access the digital rota from anywhere and on multiple devices. This flexibility ensures you can manage your workforce and schedules conveniently, whether you're in the office or on the go.
Can HR Duo Time handle a diverse workforce with multiple locations?
Yes, HR Duo Time is designed to effortlessly manage a diverse workforce across multiple locations. It provides the tools and flexibility you need to track time for your entire organisation effectively.
How secure is HR Duo for storing sensitive HR data?
Security is our top priority. HR Duo employs robust encryption and data protection measures to ensure the utmost security for your HR data. We comply with industry standards and best practices to safeguard your sensitive information.
Rest assured that your data is safe and protected within HR Duo.
How does optional biometric access or facial recognition work in HR Duo Time?
With our advanced hardware offering optional biometric access or facial recognition, we can enhance your security and accuracy by allowing you to verify who is at work and the duration of their presence. A modern solution for modern ways of working, this state-of-the-art docking station provides an extra layer of assurance in time tracking.
Can HR Duo Time help track employee absences?
Yes, HR Duo Time simplifies absence tracking. Managers can easily record absences with one click, making it convenient to manage and document employee time off.
Does HR Duo Time help control labour costs?
Yes, HR Duo Time provides features to help control labour costs by ensuring that you only pay for time actually worked. This reduces the risk of payroll errors and financial inefficiencies.
Does HR Duo Time support compliance efforts?
HR Duo Time supports compliance with industry and working time regulations by offering simple time scheduling features. It helps you meet regulatory requirements with ease.
Is HR Duo Time accessible from multiple devices?
Yes, HR Duo Time enables multi-device, online clock-in/out, allowing employees to access the system from anywhere, which is crucial in the hybrid working era.
How can I get started with HR Duo Time for my business?
To get started with HR Duo Time, simply reach out to our team here, and we'll guide you through the setup and onboarding process, ensuring a smooth transition to efficient time and attendance management.